Musical Biography
Cal-Arts graduate, Guitarist Byron Paul Tomingas has appeared as soloist, with chamber groups and Symphonic Orchestras on stage, live radio and as the feature in more than 20 Public Broadcast television productions. Instructor to multiple thousands of students and Composer of award winning film scores Tomingas has received such concert reviews as: "Enchanted Animation," "Brilliant," "Splendid Musicality"for his Classical and Originals concerts. But where did he come from, what makes his music stand out? According to Byron, he blames it all on the long dark cold, cold winter nights of early Jackson Hole!
While consistently receiving acclaim and standing ovations, appearances are a rarity by this highly private artist. Even recordings are usually very limited release items to celebrate an event and are often filled with a blend of classics, original works, transcriptions and song arrangements. Tomingas withdrew from Concertizing for over a decade ago in favor of a quieter, simpler life but he has returned to the concert stage better than ever. The best chance one has of hearing Tomingas play is at the Jackson Hootenanny "A tradition" since he was a kid just beginning his guitar path, Jenny Lake Lodge or catch one of his local concerts in Wyoming, otherwise, you might have to stroll the quiet evening streets of Jackson Hole at the foot of Snow King Mountain, listen carefully, and you will likely hear a stream of music on a gentle breeze or in some faraway canyon, that would be Byron walking with his King Shepherd Tango in the "healing far reaches." Dogs have always been an essential part of who Byron is.
Early Career
Master composer Roman Ryterband wrote significant music (now in the Harvard Archives) for the instrument after hearing a performance by Byron Tomingas in Palm Springs CA. "I want to write music for you!" Tomingas has appeared in several movies as well as composing music for award winning films. Students of Byron Tomingas have also been featured in many television productions, concerts and are highly regarded by the industry in their own right.
Maestro Tomingas concerts convey a warm, humorous, outdoor joie de vivre spirit that "enchants" his performances with programming of romantic and energized music targeted to the "hearts of concert audiences" (Guy Horn, composer). Classic Commentator Euell Labahrd called Tomingas "A leading force in music", Classic Review said "Brilliant" after a concerto with the Reno Philharmonic.
The award winning documentary "The Bountiful Harvest of Steinbeck Country" soundtrack was composed and performed by Tomingas. Byron also made his own short film productions two of which were recently shown at the Eastman Film Festival in Los Angeles. Maestro Tomingas was a Founding Board Member of the highly successful Carmel Classic Guitar Festival in California.
Byron Tomingas received his Bachelor of Music with Graduate Studies from the prestigious California Institute of the Arts where he studied intensively with such notables as: Sitar Master Ravi Shankar, Conductor Leonard Stein, Musicology with Dr. Ronald Purcell, Composer Harold Budd, Chamber Music with Roth Quartet Cellist Cesare Pascarella, and Electronic Music Composer/Innovator Morton Subotnik (2001 Space Odyssey).
Tomingas was fortunate to see Andres Segovia in concert, and get to play one of his Ramirez guitars. Byron later received the honor of being accepted to one of legendary Maestro Andres Segovia's last master classes in Compostela Spain.
​
Byron has taught multiple thousands of successful students at colleges, privately and in Master Classes with such reviews as: "Phenomenal," "Determined, Skillful and Articulate".
Vintage film featuring one of Byron's "monster works": performing his transcription of the Camille Saint-Saëns "Introduction et Rondo Capriccioso" in concert at Hartnell College, Salinas, CA
Never a traditionalist, there are many inovative techniques displayed here from double picking with the thumb while playing melody to reverse harmonics with the right hand little finger.
In His Own Words
When I finally saw the light and went to a serious music school to learn what it was that had enchanted me from birth, I arrived in downtown Los Angeles California from a small town in Wyoming which was quite a culture shock. I now say that Southern California is a great place to go learn things. Unfortunately, you also learn a lot of things you really didn't want to know; still I wouldn't exchange that growing experience. There were great talents that befriended me and we were all caught up in the heady excitement of rapid progress in skill, knowledge and testing the power of being able to change the world with our ideas and actions.
In the previous five years my older brother Henry (in the white shirt, see picture to the right) got me interested and showed me how to play a couple of songs, 'Bulldog" for one. Then he went back to college. I taught myself how to play mostly with a phonograph where I would put the record on, hear the first note, stop it and try to find that note on the guitar, try all the chords I knew that used that note and so on. From that starting point wonderful Stippy Wolf and kind Marc Schupman (who provided the single most important element of knowledge I ever learned about guitar; how chords work) provided some framework for all of these notes. During my sophomore year at High School I created the first Rock and Roll band (Teton Rocks) in Jackson Hole Wyoming and Grand Teton National Park. I had to teach myself all the other instruments and all the parts to each song so I could then teach others to play. We played exuberant songs had such fun and a good deal of sheer terror but the experiences remain as the highlight of our youth.
When this kid from a town of 1000 in Wyoming arrived in downtown Los Angeles at California Institute of the Arts, more of a collection of schools such as; Music, Theater, Dance, Film and Fine Art, I could play Chet Atkins style renderings of several songs, including the one I auditioned with, "Yesterday" by Lennon & McCartney. They were not impressed as I couldn't read music and knew nothing about theory, music history and certainly couldn't play a note of classical music and I was duly mortified and humbled, I've always been a little sensitive, well okay, a lot sensitive.
However as they were a brand new college and desperate to add more bodies to the student body they let me in on probation. There I was suddenly thrust into the brilliant world of "world class" guitars, Oribe's, Hauser's, Ramirez, something from most of the greats and a lot of middle greats were there rendering gorgeous music. Being a poverty-stricken boy from a small town in Wyoming and no experience, I had a $12 guitar I had hurriedly bought in Tijuana Mexico. Through some strange fluke of events, I even became Student Body President, Oh, and what I had to do, was agony, I didn't get to touch my left hand to the neck for two weeks. Can you imagine hitting a single note excruciatingly slowly for ten hours a day? That's truly what I did but worse, with a towel wrapped around the neck as the neighbors were being driven out of their skulls with my incessant "ding, ding, ding".
A person needs "motivators", in my case it was not being famous (hate being seen actually) or having an idol to emulate which seems to work for many people; my motivators were simple, basic ones: "Boredom" (long cold, dark winters in Jackson Hole) "Fear of Failure" this one was amplified exponentially because I've always hated to be seen or noticed, I have always wanted to be invisible. But playing music is in extreme the opposite, your are putting your bare soul out there in front of thousands of people. So, fear of failure provides a lot of go, or run away power. But one of the best was that I love problem solving whether it's mechanics, electronics, computer code or how to make my fingers play through difficulties as if it were easy. And I absolutely adore discovering and polishing the little details that give life with personality to the song. All of the songs I play are simply because I like spending time with each of them, seeing what we could become together.
​
CalArts was a brilliant idea by a man often called a creative genius. I joke that I have a genuine Mickey Mouse degree and it's sort of true. The creative guy who started the college, couldn't get people who were cross trained in the arts, such as Theater and Fine Art, or Music and Film making, so he envisioned a campus where all the arts would be present, World Music, Film, Theater, Dance, Art and of course Music. He unfortunately passed away before the final campus was finished, but the college was well on its way and his brother Roy completed the task. They hired the shakers and movers in creative fields which attracted the highest caliber students. and that in turn created the most inspriring community ever conceived, and it was self energizing! All these one off creative types interacting with other brilliant types from other genre's, absolutely incredible. The genius behind it all? None other than Walt Disney the father of Mickey Mouse!
I had always played a lot, 5 hours was a minimum, not because I felt compelled to, but simply because I enjoyed the act of making music and inventing new combinations. Beautifully shaped sensual notes contrasted with high-energy exuberance, I come alive when rendering those moments. My first guitar had been a steel string and I did indeed make my finger tips bleed with that one and often had a bandage on the end of my middle finger. Prior to going to a music college, the longest I ever sat was 17 hours just dreaming away with my guitar, and I fell asleep playing as I often did, I just had to try one more thing. Unfortunately, I don't have that passion about playing in public, it is a lot of fun to get others excited about the music but not what I live for, I still tend to hide out instead probably a side effect from the overly sensitive side of me. In truth, I would rather not be noticed at all, but that's not an option in the field I'm in, so the end result is that it's hard to get me out there. I have the same passion about long walks in the mountains with my pups; I revel in high alpine meadows and I just have to see what's over that ridge or around that knoll, I often have walk back miles in the dark. The smooth elegance of Figure skating also gives me that thrill that takes you to a place beyond mortal existence and I always ache to skate just a little longer to get one more perfectly smooth, turn. Truly though, the only comparison with making music is a passionate partner who adores you, unfortunately they can be a bit more demanding and troublesome than a dog, mountains or a guitar.
PS: in the picture, thats the brilliant dog named "Commando" who was filmed by Walt Disney and a rare photo of Byron who hated having his picture taken, he didn't like the attention.
My Oribe Guitar
Two guitars at college particularly enchanted me, one was a Red Wood topped Oribe guitar that sounded like it was absolutely a living, breathing creature and was the closest thing to absolute perfection I had ever seen. The Oribe's bargain price at the time of $1000 was of course astronomically beyond my means, the $12 dollars I spent on the Mexican guitar in Tijuana meant I literally didn't eat for a week. The other great guitar was a Ramirez Flamenco guitar with wooden tuning pegs but the instrument never interested me, it was the pegs.
What I wanted was an Oribe with wooden tuning pegs but he didn't make those, or so I thought. But every night I would wrap that awful towel around my poor little Mexican guitar and I would set to it. To give me inspiration, I began imagining, and I have always had a vivid imagination, that it was a Red Wood topped Oribe guitar with wooden tuning pegs and so I would sit every day for ten hours, "ding, ding, ding. It's no wonder I went a little mad in those years.". .
I tried to tell my friends they weren't seeing the real me that I was a little out to lunch until I got this thing under control but I doubt that any of them had a clue nor cared (he was who he was) what I was talking about. That was all happening in 1968 and guess what Oribe was constructing at that very moment? My guitar, precisely the way I was imagining it, of course I didn't know that at the time
Many of my fellow guitarists had Oribe's by then but not me. One of my good friends, a wonderful guitarist Morris Mizrahi. He inspired many of us with his wild abandon approach to becoming one of the greatest concert guitarist the world has ever heard. He had been a Flameco player living in caves of Spain with the Gypsies and was a formidable player. But upon entering Cal-Arts, he immediately sold his Ramirez Flamenco in order to buy a Classic Guitar by Oribe. Flamenco guitarist are notoriously sloppy meaning they pass through a lot of notes missing most or many of them but the effect of blazing scale still comes across to a non-player. Sabicas changed that by being a very precise player and later Paco de Lucia.
It was always a treat to ask Morrie what he was working on, his enthusiasm was infectious and we would whip out our guitars where ever we were, a hallway, restaurant, street or staircase and within a few notes of say something like "Danza Pomposa" you were captivated by the magic of the music and enthusiasm, what inspirational fun, a "mutual inspiration society". I still play an A minor scale the way he showed me, it was a clever idea so you could run the notes over each other. You can hear me play it on "Take Five" near the end. Morrie had an extremely indulgent personality and would completely engross himself in whatever inspired him.
After college, we stayed in touch but not a lot, FaceBook & eMail didn't exist back then so staying in touch was a lot harder and we were both pursuing our career, we each got jobs teaching at a couple of colleges and were settling into building up our reputations. He did a concert in Santa Cruz which was near where I had established myself in Monterey so we got together and enjoyed catching up. Later I saw he was in Hawaii doing a Master Class and then nothing for a long time.
I started inquiring around and finally heard that Morrie didn't exist anymore, and that loss is sadder because he loved playing magical music for audiences where they would stand up and cheer "Bravo". In homage wrote the "Mizrahi Composite" to remember him by, it has a Flamenco style beginning, then Classical, music we played, heard and talked about like the theme to the block buster movie 2001, Bossa Nova and then it returns. Morries reach was incredible, forty years later, people still track me down for information about Morrie.
Morrie and I were probably the worst sight readers out of all 25 guitar majors at Cal-Arts and certainly not the most cherished by the establishment as we ran wide of accepted classical standards, started classical far too late in our lives, but interestingly, even though we had radically differing personalities, we seemed to be the only two who could actually play a concert and pull it off, the others seemed to freeze up and fall apart and not to be uncharitable, the truth is they just couldn't seem to get much more than a lot of thumps, bumps and rattles out of their instrument. Maybe they just didn't have the mortifying fear of falling on your face in front of anyone as I do or Morrie's unbinding confidence, traumatic for them and frustratingly, there was nothing you could do to help them. A lot of them seemed to think the inspiration of being in front of an audience with bring their performance up, I saw it the opposite. So I really put forth a lot of prior effort in the panic stricken hopes of ensuring reasonable success, getting up in front of an audience is a scary business; I generally consider that I played at a good concert to about 60% of my ability. I often say its like having someone rapidly waving their hand right in front of your face (distraction) tourniquet on your arms (weakness) earmuffs o (can't hear), time has sped up (can't focus) and you can't keep up and then when you do catch it, you over concentrate and discover your mind doesn't know how to play the song anymore and it thinks far too slowly, the hands and the ears have to be set free to do their job, you just listen like the audience and kind of "conduct"; if the audience is getting noisy, you bring up a dynamic, if they are with you, you can bring it down to near silence and they will be rigth there with you, that part is exhilerating! One of the better sight-readers from Brazil that was an utter disaster on stage grumblingly said to me after my first concert "There's more to it than just playing the right notes". My retort was that you have to hear the notes before you can hear an interpretation. I had a little better guitar in the second year but it was still only a $100 dollar instrument and pretty thick sounding and I was still envisioning my absolutely perfect, beautiful, vibrant Oribe that I didn't know he had already completed ---- and, had already sold to someone else.
My Junior year a lot of old fiends such as wonderfully talented vocal major Hal-James Pederson had dropped out, but in Hal's case he had won a part in the tremendously successful play "You're a Good Man Charlie Brown" as Schroeder which set his career running, then an Elvis Presley movie part. However, I've been told that Hal too is now just a memory, such a tremendous talent and so few know of him. Others had hit pop records and started touring but none of the guitar majors (except Morrie) did anything significant in the concert field and slowly they seem to drift away. So many talented friends had such near misses with fame and success, yes, even reticent me. Out of the group of 25 Guitar majors that started, I think Morrie and I one of the very few to receive a Bachelor's in Music Performance. People often asked about my cheap guitar and I would say such nonsense as "I'm not getting an Oribe until I deserve it" and they would say "when will that be" and I would say "when I play the Concerto in D Major by Vivaldi with a string ensemble". Oribe's price had doubled by then but he probably wasn't making more than 75 cents an hour for the time and effort he put into them. Everyone who knew of Oribe guitars spoke in reverent tones and those lucky few who could afford them considered them Holy Relics that had to be obtained by a trial of fire by going to Oribe's shop, meeting him in person and being worthy. He was famous for losing his temper and chasing people out of his shop if they didn't show proper respect or care in handling them and quite frankly he was right to do so, Oribe creates miracles, you either hear and see it or you don't.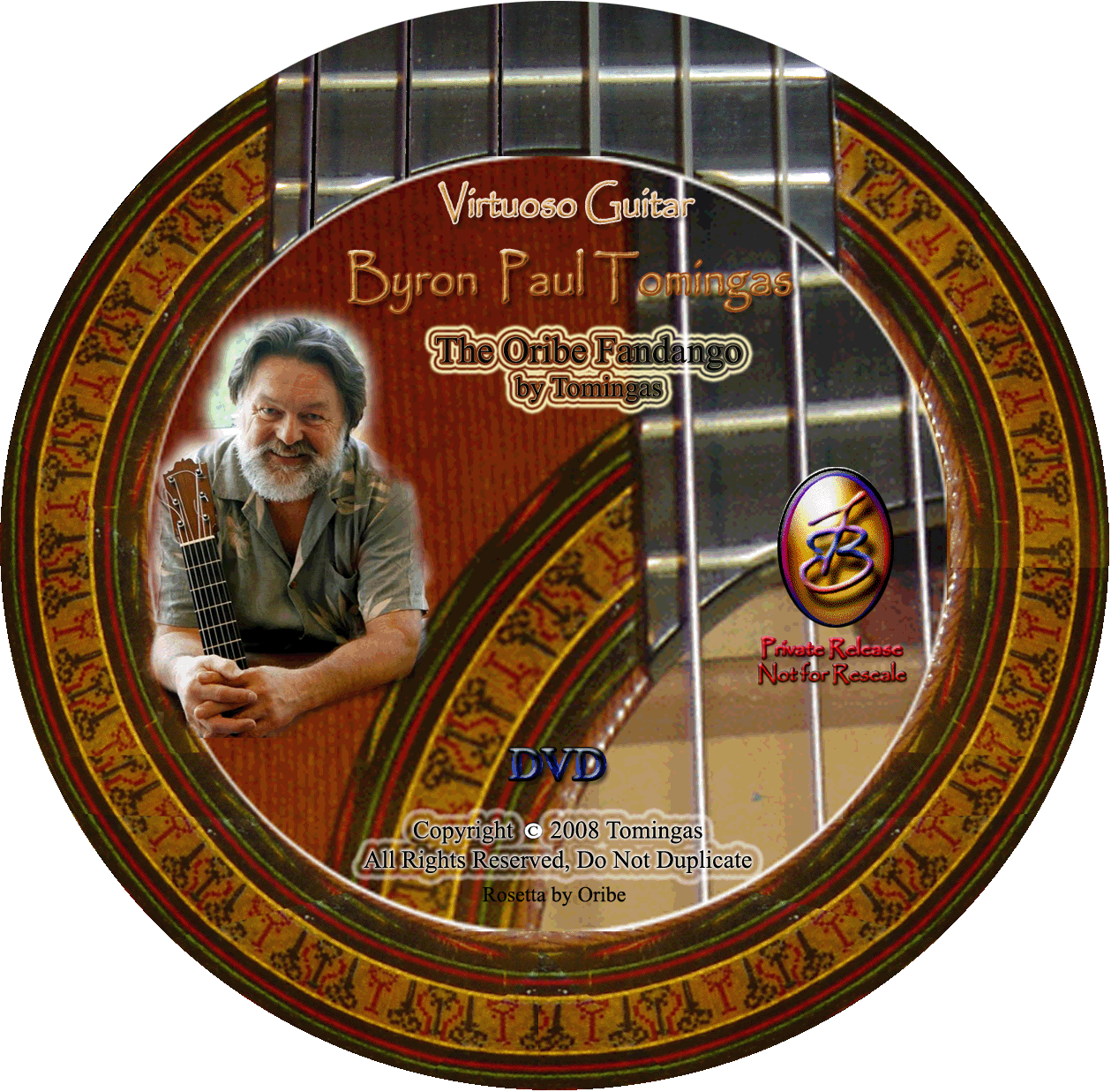 Then one day in my Junior year I had a friend, Jesus Cortez who was an Art major, sweetest most innocent guy in the world and trying so hard to be perfect at everything including body building and guitar playing and oh how the women loved him and he in turn loved them. His art renderings were all highly regarded but they were all of macabre scenes, I still have one, who knows what goes on in a person. Jesus tried hard, maybe too hard his playing was pretty stiff as if he was weight lifting his fingers in both directions but Art was his thing and music was a hobby and he was very good at guitar as a hobby and could hold his own with many professional guitarists. Anyway, he excitedly dragged in a beat up old guitar case that looked like a ragged grey silk pin striped suit twisted sideways that someone from Bulgaria would wear if they were trying to stylishly standout in the 1940's and it looked very weird on a guitar case. He said "Look what I'm buying from a friend of mine, he doesn't care about it, he just buys a guitar for awhile and then sells it and gets some other guitar" he opened the case and there it was, after years of daily dreaming, it really existed, my beloved Oribe. I was standing there stupefied thinking, "What's my guitar doing in that ugly case?" I could not come to terms with the fact I was actually seeing my beautiful guitar and that it was in someone else's arms. Jesus jerked the guitar out; its perfect body had dings and signs of neglect. "Do you want to play it? You can borrow it for awhile if you want." I was ready to play it forever, as I played, it spoke to me with hauntingly sensual tones and beautiful balance, the epitome of grace and elegance, my perfect, oh so cherished for so many years Oribe, now in my arms. As a Flamenco, it was dark sound but as a Classical it was brighter with incredible clarity in the basses. In fact I played it for the rest of that year and then I had to make the ultimate devastating sacrifice, I had to give it back when I went home for summer and go back to playing my thick guitar. I was mortified.
My final year suddenly arrived; I was back at Cal-Arts my Senior year for a month or so when I ran into Jesus again and asked him if he had bought my Oribe guitar. He said, "Oh, I've changed my mind, I've been loaning it out to my students, there's a new guitar maker that's making one just for me". I thought my friend and the guy who owned my guitar must be absolutely deaf and blind not to see the glory in this instrument. So, probably with a shaking voice, I asked if I could buy the Oribe and over a nerve wracking 12 days he finally checked with the owner and the deal was done for far less than a new Oribe, but I still had to somehow raise the seemingly enormous funds which was made more difficult as the price of the college kept going up each year and I wasn't making any more money than before. My original music was supposed to be on the Blood Sweat & Tears concert, the Tom Jones TV show, a movie with Cher, Michael Douglas the actor had just finished a movie about a guitar player that was supposed to have lots of my little miscellaneous guitar things on and not one of those things came through, but I did come to know Michael fairly well, had been to his house and met his girlfriend. I played in pop bands with bass or guitar and taught in LA to supplement my summer earnings but things were definitely tight. I was playing in a band called Friends that had a RCA recording contract at a gig at a club in Studio City. My senior recital was coming up and I was practicing hard for that, I had completed a transcription for Guitar and Harpsichord played graciously my dear friend Susan Svrček, I also played the Bach Bouree of course and then just two days before my recital I paid for my Oribe guitar walked on stage and played as the finale at the concert, the Vivaldi Concerto in D Major with a string orchestra (Cesare Pascarella, of the Roth Quartet fame on cello) with my Oribe guitar where my heart, soul and beautiful guitar sang together in public for the first time.
And then door on my college days closed and my Oribe guitar and I were on our own. We came to know each other well over the years; the emotional levels we've reached are numerous well beyond count and far beyond descriptive words.
The times we spent are honored in a song I composed for my Oribe Guitar, with my Oribe Guitar: "The Oribe Fandango"